A REPORTAGE, "STREET PHOTOGRAPHER" SINCE 1972, I HAVE SHOT OVER 120,000 images; SUBJECTS VARY, BUT TEND TOWARDS THE "IRONIC REALITY.." IN NYC, MY WORK WAS SHOWN AT THE NIKON HOUSE, IBM GALLERY, AND IS IN THE PERMANENT COLLECTION OF THE BROOKLYN MUSEUM AND THE SMITHSONIAN. IMAGES HAVE ALSO BEEN PUBLISHED AND EXHIBITED INTERNATIONALLY, FROM BUENOS AIRES, ARGENTINA, SPAIN, ENGLAND, FRANCE, ITALY, MEXICO, TOYKO & JAPAN.

PHOTOGRAPHY IS MY EXISTENCE AND COVERS ALL ASPECTS OF BEING A SINGLE WOMAN/ARTIST IN NEW YORK CITY. I ALSO HAD THE FREEDOM AND GOOD FORTUNE FOR EXTENSIVE TRAVEL.

"ASPHALT GARDENS, 69 PHOTOS BY FLO FOX" WAS PUBLISHED IN 1981. THE "UP IN SMOKE" COLLECTION, 11 PHOTOS, WAS PUBLISHED IN "LIFE" MAGAZINE, SEPT. 1994. MY WORK WAS IN A TWO-PERSON EXHIBIT WITH "WEEGEE THE FAMOUS" IN PARIS, FRANCE 1987, AND A TWO-PERSON SHOW "OPPOSITES ATTRACT" WITH GIGI STOLL IN ITALY 2012. I WAS ALSO AN ADVOCATE FOR THE DISABLED AND TAUGHT THE FIRST PHOTOGRAPHY CLASS FOR BLIND AND VISUALLY IMPAIRED STUDENTS AT THE LIGHTHOUSE FOR THE BLIND IN 1979.

THOUGH VISUALLY IMPAIRED AND PHYSICALLY CHALLENGED FROM MULTIPLE SCLEROSIS IN A WHEEL CHAIR, I NEVER GO ANYWHERE WITHOUT MY CAMERA. TOTALLY DISABLED FROM THE NECK DOWN SINCE 1999 I HAVE TO DIRECT FRIENDS, ATTENDANTS OR PEOPLE IN THE STREET TO TAKE PICTURES FOR ME.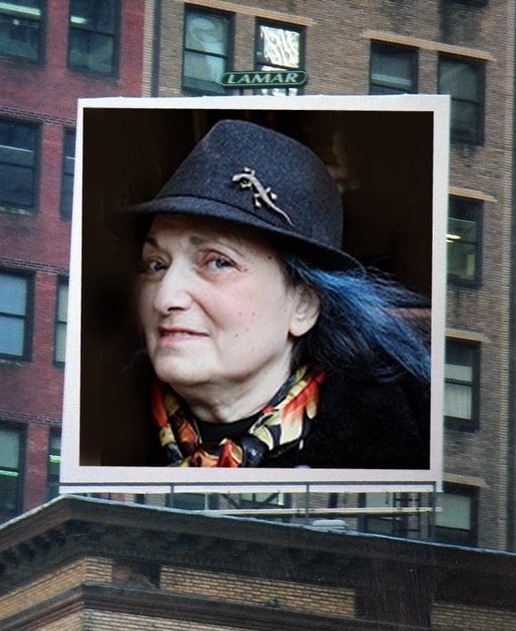 PIX: CATHERINE KIRKPATRICK

IN THE NEWS: